Unique workshop to experience Japanese cuisine,
culture and hospitality
OMOTENASHI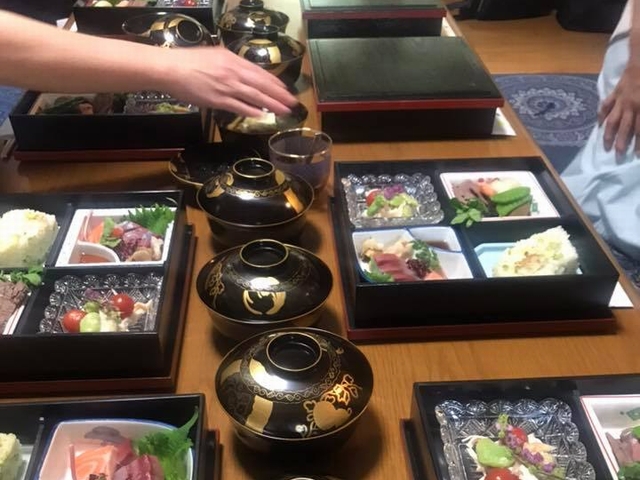 Only Sushi, Tempura and Takoyaki are not Japanese culture.
Cooking Studio Kitchen*Communication runs a workshop to be able to touch the traditional Japanese event-cuisine cooking in a small group of people using a textbook with the explanation in English and a lot of beautiful pictures.
This workshop is intended especially for the people from abroad to join and bring home the fruit of the valuable experience as a special souvenir of his/her visit to Japan.
At the same time, we might be able to offer the Japanese children a special opportunity to look over the culture of their own country.
This workshop is intended for:
-the non-Japanese who are interested in the Japanese cuisine,
-the-non-Japanese who want to experience the Japanese style of hospitality, and in addition,
-the participants who are over 6 years of age regardless of nationality.
Outline of our Service
This workshop offers you the experience of the Japanese culture and hospitality in making and tasting the traditional Japanese event-cuisine with a small group of people.
We are to convey you our knowledge, skill and thought with the intention of hoping you to go back home with the Japanese culture of cuisine and at the same time for the Japanese children as well to look over wonderful Japanese culture.
Characteristics of our workshop
-Being able to know traditional Japanese event-cuisine and home cooking,
-Being performed in a small group to enable the participants' asking various questions at any time,
-Being easy to understand through the textbook with English translation, and
-Being possible to have instruction in English through an interpreter (an extra charge required).
A sample of our menu and the textbook with English translation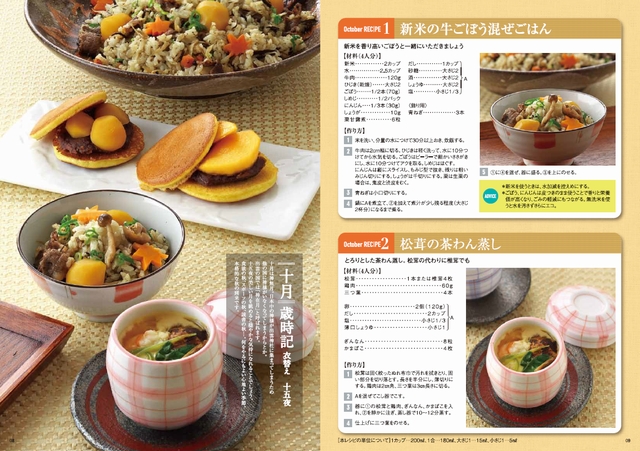 The above are the recipes for the October event-cuisine.
They may look complicated somewhat, however, we have been actually making such dishes in every season of the year for 3 years in some practice-cooking-style kids-diners.
Being possible for small children, the tourists from abroad might be able to make them quite easily.
And all of these recipes have English translation. Cooking and making with the attendance of the instructor would make you understand properly, moreover, the textbook with the explanation in English would surely improve your understanding so much.
In addition to the above features, a recipe-book with easy-to-understand illustrations is available as well, which may also help those who are from non-English speaking countries.
Some Examples of our meals



Meal on New Year's Day

白みそ雑煮
 お節料理




Meal of February

福豆ごはん 
豆乳入り粕汁 
蒸しパン
Composition of our workshop
Usually our workshop is held independently (for 3 hours a time)
You are to make the traditional Japanese event-cuisine of the season with the assistance of the instructor and enjoy tasting it together.
You can learn and experience the way of making dishes, the table manners, the heart of Japan and their culture itself.
※Some successive workshops can also be arranged upon request.
※For those who need interpreter of English, Ms. Masako Morgan (translator of the textbook) is to work upon request as such,
 
<An extra charge of ¥5,000-/3 hours (excluding tax) is required>
Charge, Date of Operation, etc.,
Date of operation

Advance appointment system
Please let us know your preferable dates for workshop in advance.
We are to inform you of our available date and time accordingly.

Time and duration of workshop

T10:30-13:30 (for 3 hours)
※adjustable if necessary

Number of participants per workshop

Minimum number of participants per workshop is 2, and maximum acceptable number of people is 8.

Amount of charge for workshop

¥6,000~/participant (excluding tax)

Goods to be prepared by every participant

An apron and a hand-towel
※Aprons and towels are available at a rental of ¥200-/set(excluding tax)

Interpretation Service (upon request)

An extra charge of ¥5,000-/3 hours (excluding tax) is required
Proceeding of our Service
Making an appointment in advance for workshop is required.
Please let us know some preferable dates for workshop.
We are to inform you later of our acceptable date and time for workshop accordingly.
In case you need an interpreter, please also let us know that at the time of appointment.
Making your early appointment is appreciated.
For the appointment of workshop…
On the day of workshop
Goods and clothes to be prepared by every participant
Please bring your own apron and hand-towel with you.
Please come to our place in the clothes suitable for cooking.
1.Greetings
We are to start in a friendly atmosphere.
2.Start of Cooking and making
Being easy to understand the proceeding of cooking and making with the aid of the textbook.
Keys for cooking and making are to be shown properly by the instructor.
The explanation on the Japanese culture related to the cuisine would also be conveyed.
Interpreter of English with the appointment in advance would be available upon request.
3.Setting of the table
We are to set the table with tableware.
Arrangement of the plates and bowls also needs some secret.
Proper and neat arrangement should be a part of the Japanese hospitality.
4.Time for tasting
Everything looks delicious! Let's start to eat!
Chatting on various matters such as on Japan and yourself would make this tasting much happier,
reflecting the process of cooking and making, and,
enjoying the drinks which go well with the food.
5.Summery
We are to explain you the keys and important parts of the contents of the workshop.
Asking any questions is highly appreciated.
6.Putting the place of workshop in order
After having the tasty dishes, let's put the place of workshop in order with pleasure.
Cooking and making dishes might finally end by taking away, cleaning & drying the tableware and the cooking utensils.
7.Termination of the Workshop
We hope you would take the happy memory of the workshop together with the textbook to your country and entertain your friends and family members with your own homemade Japanese dishes.
Introduction of the Instructor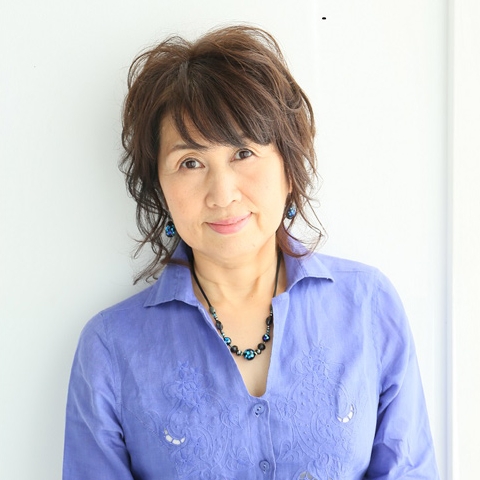 Let me introduce myself. My name is Keiko Kamakura, the sole representative of the Cooking Studio Kitchen*Communication of Nishi-Akashi.
I started this association with the intention to create the place of meals, which are indispensable for the human life, to fill there with warm heart through the connection of the heart of the people of various business fields and generations.
We cannot live without meals. And, of course, meals are the source of the growth of our body and soul. It is wonderful to have members to dine with when we are happy or even when unhappy in our life. This would connect the vitality of the people and create the energy to live.
Let's communicate each other in the kitchen and diner together using the wonderful tool of meals.
Having such in mind, I would like to continue the activities to form a community and enlarge the circle of mutual communication in the kitchen with making heart-warming meals.
General Information on Kitchen*Communication
How about coming to experience our Japanese style of hospitality in a neat and tidy studio?
Kitchen Studio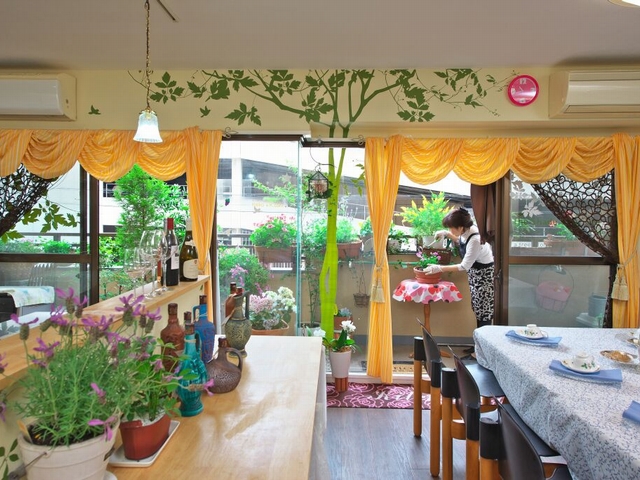 A spacious, bright, neat and tidy studio
Japanese-style Room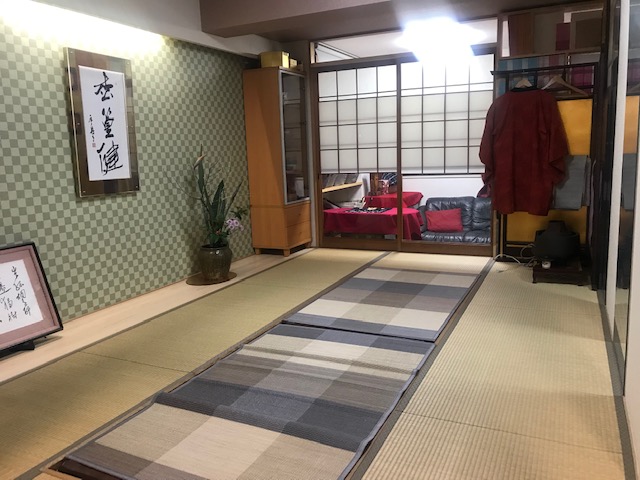 Trial of tea ceremony is also arrangeable upon request
Access to our place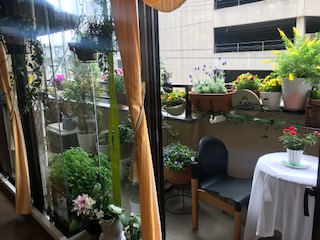 Our studio of Kitchen*Communication is conveniently located for tourists'access
You can find the Hotel Castle Plaza, the biggest hotel around Nishi-Akashi, just in front of our balcony.
Within 5 minutes' walk distance from here also are several budget hotels.
An only 3 minutes' walk from Nishi-Akashi Station takes you to a tasty Japanese restaurant Zensakus.
  
An abundance of charged parking lots is available around here.
And our studio of Kitchen*Communication is only 5 minutes' walk distance from the Nishi-Akashi Station of Japan Railways where you can take both the Shinkansen and the conventional JR trains.
Cooking Studio Kitchen*Communication
Address

〒673-0016
#206 Daia-Palace Nishi-Akashi Station Square
2-1-3, Matsunouchi
Akashi City
Hyogo Prefecture
673-0016 Japan
(4-minute walk north to JR Nishi-Akashi Station, Beside the Hotel Castle Plaza)

Phone

078-983-9100
Some Samples of Workshop Meals



お正月のメニュー

白みそ雑煮 
お節料理




2月のメニュー

福豆ごはん 
豆乳入り粕汁 
蒸しパン




3月のメニュー

春のお祝いちらしずし 
はまぐりとうどのお吸い物 
ひし餅風ヨーグルトゼリー




4月のメニュー

桜鯛めし 
 鶏のつくねと筍と蕗の炊き合わせ
 焼き桜




5月のメニュー

鯉のぼりの3色ごはん 
手作りインスタントみそ汁 
柏餅




6月のメニュー

豚肉の梅肉蒸し 
白玉とオクラの赤出汁 
水無月風牛乳かん




7月のメニュー

豆腐入りうな卵丼 
たこときゅうりのもずく和え 
すいか白玉




9月のメニュー

秋刀魚の黄金焼き 
秋なすの田楽 
さつまいものお焼き




10月のメニュー

新米の牛ごぼう混ぜごはん 
松茸の茶わん蒸し 
柿と栗のどら焼き




11月のメニュー

鮭のけんちん焼き 
きのこたっぷりいもこ汁 
かぼちゃプリン




12月のメニュー

ぶり大根 
かきご飯 
かぶらの浅漬けゆず風味




クリスマスのメニュー

シェパードパイ 
りんごと冬みかんと白菜のサラダ 
親子でつくるピザ 
冬野菜のホワイトスープ 
クリスマスチキン オレンジ風味 
ブッシュ・ド・ノエル
※Any other dishes or selections of food of your preference would be available.
Please feel free to contact us.